History of St. Mary of Assumption Church
Photos courtesy of Phil Hrvatin and Karen Nemec
Father John Kumse
April 1, 1987 - Present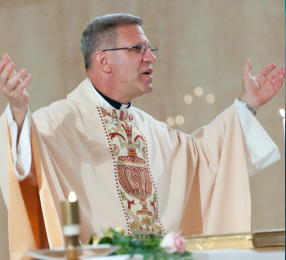 Our current pastor, Father John Kumse, took over on April 1, 1987 and has worked tirelessly and diligently to revive parish and community spirit, as well as to pay off all debts of the church. The church debts were paid in full in 2008 with a celebration of all parishioners. His guidance and leadership have brought renewed energy to the parish and a thriving church community focused on the needs of its parishioners.
Pastors
at St. Mary's Church
Reverend Mark Pakiz of Sodrazica, 1905-1908
Reverend Anton Smrekar of Knezak, 1908-1913
Reverend Paul Hribar of Zgornji Tuhinj, 1913-1917
Reverend Joseph Skur of Prosnik, 1917-1922
Reverend Vitus Hribar of Zgornji Tuhinj, 1922-1952
Reverend Mitthias Jager of Ljubljana, 1952-1967
Reverend Victor Tomc of Cleveland, 1967-1987
Reverend John Kumse of Barberton, 1987-Present
Need Prayers? We Would Love To Pray For You.
We have a strong sense of community with parishioners.
News
Come and check out the latest news.
Sacrament of Confirmation
SACRAMENT OF CONFIRMATION will be celebrated in our parish in September. If you will be in 8th grade in September of this year or older, including adults who have not yet been confirmed, please contact Fr. Kumse at 216- 761-7740 if you will be part of this year's Confirmation Preparation beginning toward the end of March.
Prešernov dan – An Evening of culture
The month of February is the month of Culture in the Slovenian Community, highlighting the Slovenian National Poet, France Prešeren. St. Mary's will host an Evening of Culture on Sunday, February 9th at 6:00 p.m. in the parish hall. Members of our own Cleveland Community will perform.