Deacon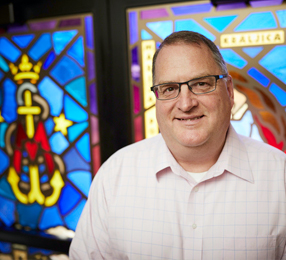 Deacon David has served as a deacon for 10 years at St. Mary Church in Collinwood, his home parish. His vocation story began when his pastor, Fr. John Kumse, and another priest each suggested he become a deacon – all within the same week. His wife Marie's response, "I always thought you'd make a good deacon," surprised him. "As a convert, I didn't even know what a deacon was," he recalls.
Pastors
at St. Mary's Church
Reverend Mark Pakiz of Sodrazica, 1905-1908
Reverend Andrej Smrekar of Kneza, 1908-1913
Reverend Paul Hribar of Zgornji Tuhinj, 1913-1917
Reverend Joseph Skur of Prosnik, 1917-1922
Reverend Vitus Hribar of Zgornji Tuhinj, 1922-1952
Reverend Mitthias Jager of Ljubljana, 1952-1967
Reverend Victor Tomc of Cleveland, 1967-1987
Reverend John Kumse of Barberton, 1987-Present
From The Blog
We have a strong sense of community with parishioners.